Join the NYF Fry Society loyalty program and get rewarded. It's deliciously easy, rewarding and FREE!

Membership benefits:
Register your Fry Society account here.
Scan your Fry Society loyalty card on your phone when you make a purchase at NYF.*
Every purchase earns you 1 point.***
After 10 purchases choose any one item off the menu for free.
Send e-Gift Cards to friends.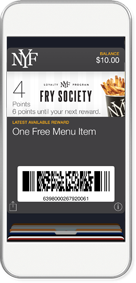 But wait! You can get even more deals! Become a Fry Society Aficionado, by preloading money on your card, and you will receive:
Even more benefits!
FREE regular fries on your birthday.
Special offers available only to Fry Society Aficionados.
Opportunities to double up your points
Convenient e-Card loading at any time.
PLUS - Preload $25 on your Fry Society card and get a FREE Regular Size Poutine!**
* The NYF Fry Society program is available only in Canada at participating locations.
** Limited time offer; first-time use only.
*** Points can now be earned once per day, on your first transaction of the day only.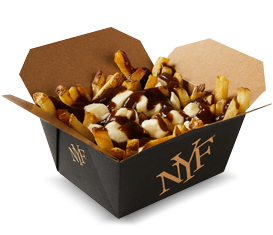 Did you get a paper Gift Receipt? Convert it here
Fry Society is not an app, so there is no download from your App Store.
Instead, add your Fry Society Card to your Apple Wallet and Google Pay.